About Polished Rx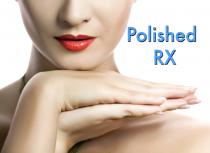 Polished RX
Microderma-polish
45 min. $125
60 min. $150
add custom peel $50+
Sometimes we all need a little deeper exfoliation to smooth and refine the skin, diminish uneven skin tone & texture and just give you an overall polished skin.
Oxygen Skin Rx
30 min. $150
add on to a Facial/Microdermabrasion/Peel for $125
Series of 6: $125/each
Series of 6 with Homecare Skincare Regimen $900
$1200 value!
Hydrate, brighten and revitalize your skin instantly with this topical hyperbaric oxygen skin treatment. Full of anti-oxidants and hyaluronic acid, this treatment reduces inflammation, bacteria and gives the skin an amazing glow as either a stand alone special event treatment or coupled with a facial, peel or microdermabrsion for repair benefits.
Ultrasonic Infusion
30 min. $125
add on to a Facial/Peel for $100+
Series of 6: $100 each
The perfect solution for sensitive skin types that cannot tolerate the manual exfoliation of microdermabrasion. This treatment uses ultrasonic waves and iontotherapy to deeply cleanse and clear clogged pores, while also infusing vitamins and nutrients into the dermal layer, creating a lifting effect.
Microcurrent Face Lifting
45 min. $125
add on to any treatment for $100+
Series of 10 or more: $110 each Series of 20 or more: $100 each Series of 30: $90 each
Tired of fine lines, loss of elasticity or just want to stay young looking the natural way? This Microcurrent facial toning treatment literally lifts the skin by toning the facial muscles using a galvanic current that is based on the same technology used to treat facial paralysis. A series of treatments, ranging from 10-30, will be assessed during your consultation to provide you with optimal benefits and to ultimately turn back the clock. This is the most popular treatment at Polished Rx!
Microcurrent Body Lifting
60 min. $200/area
2 areas: $150/area
add on to any treatment for $125+
Series of 10 $150/area
Can't achieve the muscle tone you want? Tone your stomach, thighs, rear or arms with the most advanced muscle toning device in the US!
Bio Slimming
45 min. $150
2 areas: $150/area
Series of 6: $750 with homecare kit $1250 value!
Slim, reduce the orange peel look and reduce inches!
LED Light Therapy Rx
30 min. $100
add on to any treatment for $50+
Series of 6: $75 each
Light Emitting Diodes were developed by NASA nearly 30 years ago for wound healing capabilities. Guess what? Just so happens to regenerate healthy tissue for both acne, sun damaged and rosacea skin types. Results can be seen immediately and are cumulative in a series.
Precision Chemical Peels
Level 1 $150
Level 2 $300
Level 3 $450
add Retinol Booster $50+
Dead skin build up, dry dull skin, uneven skin texture, hyperpigmentation and fine lines and wrinkles are all ideal conditions for a customized chemical peel. Whether you need mild resurfacing or a deeper cellular renewal for a renewed vibrant and youthful skin, the precision chemical peels are designed for your skin's needs.
$100.00